Welcome to SeedInvest! If this is your first time investing in a startup via SeedInvest, then you are in the right place. In this article we'll walk you through our investment process, from creating an investor account to viewing your closed investments. If you are currently looking to learn more about a specific step in the process, please feel free to skip ahead to the section that's most relevant to you.
And, if after reading all the way through to the end you still have questions we haven't addressed, you can also join one of our weekly new investor webinars for a brief introduction to SeedInvest, how to make the most of your SeedInvest experience, and live Q&A. You can also check out our 'How to Invest: Video Tutorial'.
Signing Up
The first step you should take if you're interested in investing on SeedInvest is to register on our site. Using SeedInvest while logged in is the best way to ensure that you are viewing all of the offerings currently available to you. To sign up for an account click on the blue Signup For Free button and complete the form that will appear. If you're already registered, log into your account, then proceed directly to the Browse Offerings page.
The Offerings Page
Our offerings page shows all of the investment opportunities that are currently available. Each fundraising company will be featured here, including a brief description, investment highlights, and an indication of the offering exemption under which they are fundraising. If there's a specific company in which you're interested in investing you can do so by hitting the "Invest" button on the profile page.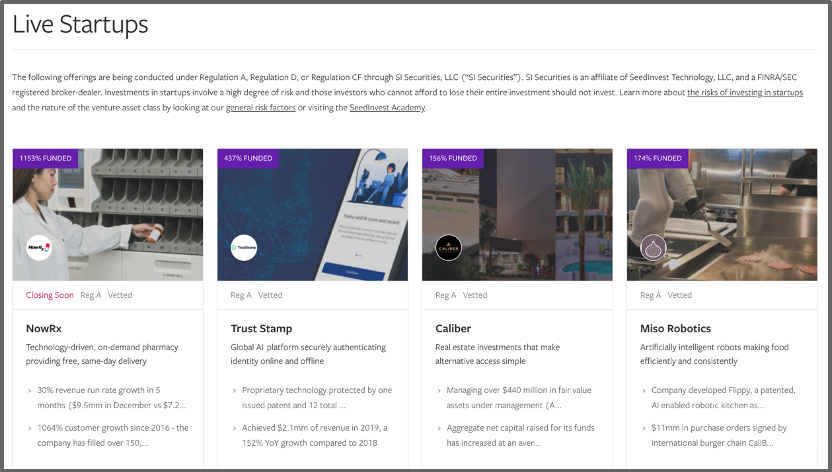 Companies will have different filing and disclosure requirements depending on the offering exemption under which they raise capital. They also have different caps on the amount they can raise, and who they are allowed to raise from. Learn more about offering types in our Academy.
Investing
There are a few steps to complete the process, outlined below.
Investment Minimums
First, you will be asked to indicate the amount you would like to invest. Please note that your selection will be subject to an investment minimum. Each fundraising company sets a minimum amount that can be invested by an individual into their campaign. The majority of companies with whom we work set minimums around $1,000 to make their raises more accessible to Main Street investors. Companies conducting more "traditional" private placements available only to accredited investors are more likely to set investment minimums at $10,000. The investment minimum will be viewable on the company's profile page. If you enter any amount less than the investment minimum, a small, red notification will appear on the page, alerting you to the fact that your desired investment amount is not of sufficient size.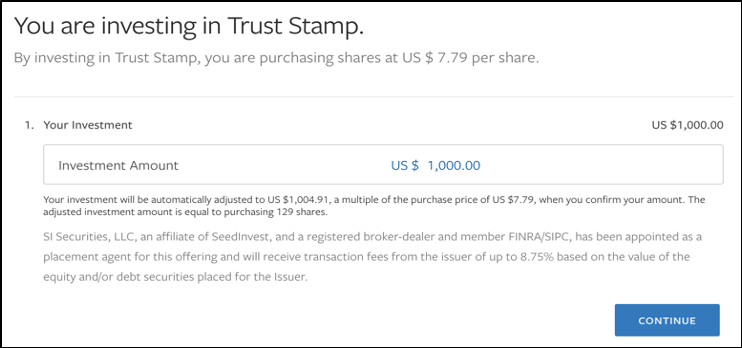 If you're looking to invest less than the direct minimum investment, you may want to explore our Auto Invest service. The minimum commitment to join Auto Invest is $1,000, which will be automatically diversified into five $200 investments (different allocation sizes are possible for amounts larger than $1,000). [1] Please note that setting up an Auto Invest account can take 7-10 business days, or longer. If you are interested in gaining exposure to a specific company whose fundraising campaign ends in fewer than 7-10 business days, it will not be available through Auto Invest in time, so you will need to invest directly.
Transaction Fees
SeedInvest charges investors a 2% transaction fee (capped at $300) per investment. If a company doesn't reach its fundraising goal, it is refunded in full. SeedInvest doesn't charge any additional fees to investors for making an investment, including no management fee, carried interest, or ongoing administrative expenses.
The transaction fee breaks down as follows:
50% covers the financial and administrative costs SeedInvest incurs associated with the processing of payments via wire, ACH, and debit card transfers.
The remaining 50% covers the financial and administrative costs of the related and subsequent reconciliation of cash and securities in prospect accounts.
Entering Personal Information
Why do we need your personal information?
As a regulated broker-dealer, we are required to obtain, verify, and record information that identifies each person who opens an account. Upon opening an account, we will ask for key information that will allow us to identify you. Please make sure that you fill in each of these fields completely and type in these fields manually–tools such as Autofill will not be recognized by the system.
Address
When entering your city, a drop-down menu should appear. Please select your city, state, and country from this list. If your city does not appear in the dropdown menu, please reach out to us for assistance, as we can add your information to our list of options. For your phone number, please include your country code (if it has not already auto populated). If you have mistakenly entered any "invalid values" you should see a red error message to that effect.
The information SeedInvest requests in this part of the investment process is required for identity verification purposes, so when it comes to indicating your physical address, make sure that what you enter will match the information on your bank statements or utility bills. It is not necessary to indicate a preferred mailing address as SeedInvest sends all correspondence electronically.
Identity Verification
As part of our regulatory requirement to verify the identity of all investors, you'll be asked for your date of birth, citizenship, and other relevant information, such as your US Social Security number. We may also ask to see your government-issued passport and/or other materials later if you are not a US citizen, or if our ID verification and fraud prevention partner, IDology, is unable to verify your identity based on the information provided initially. Rest assured, all of your information is encrypted and securely transmitted using bank-level security.
Setting Up Your Investor Profile
If this is your first time making an investment on SeedInvest, you will be asked to set up an Investor Profile (which represents the legal entity or individual on whose behalf securities will be purchased). SeedInvest users can create multiple investor profiles as necessary, and we will securely store the information associated with each profile for potential future investments. Currently, you can invest through a personal account, a trust account, or a company account (such as an LLC). As a reminder, you can only set up a personal account for yourself and not for other individuals. Meanwhile, investing via a company or trust account are both means of investing alongside other individuals. The Investor Account section is where you can choose to invest through a different account, separate from your personal account, where you will have the option to select either company or trust account.
You will also be asked to confirm some details around your annual income. Although all investors can participate in offerings under Reg CF and Reg A+, there are restrictions relating to how much one can invest based on one's income and/or net worth, which we've automated through our platform.
Payment
We can accommodate a few different funding methods:
ACH: We accept US checking accounts, and initiate these transactions from your bank account once you have verified your account information.
Wire: You initiate this type of transaction from your bank account by following the wire instructions that we will automatically send to you upon completing the online investment process (this may take 1-2 days while we run the aforementioned identification verification checks).
Debit cards: We initiate these transactions through a payment processor once we have verified electronically that the funds are available. Debit cards may be used for investments of $2,500 or less.
You can associate a different payment method with each investor profile you create. For example, if you are investing through a personal investor account, you should use your personal bank account. If you are investing through a company investor account (LLC), you should use your company's bank account. If you attempt to fund from a bank account associated with a different name than your SeedInvest investor account, it will be rejected. As a heads up, funds from your account may not be pulled immediately if your account has outstanding follow up items to complete.
Why can't I use a credit card?
Unfortunately, we don't accept credit cards as a payment method for making investments. Doing so would be a bit more complicated than it sounds, since it could be viewed as trading on margin, given we operate through a regulated broker-dealer engaged in securities transactions. Additionally, please be aware that many entities, including the SEC, advise against investing with credit cards. We urge investors to work only with a licensed or registered investment professional or firm and not attempt to use a credit card to fund investments.
Bank Account Verification
For certain payment methods, we will need to verify that the account is yours. To do this, we use a system called Plaid, which requires you to log in using your online banking credentials. Plaid then instantly authenticates your bank account. Alternatively, if you prefer not to use Plaid or your bank is not supported by them, we can instead verify your bank account by conducting a "penny test", which can take approximately 2-3 business days. This consists of two small test deposits sent to your bank account to verify we have the correct account information on file and that you have access to that account. We do this by having you verify the amounts of those deposits through your SeedInvest account once you receive them.
We do a similar check for debit cards, so do not be alarmed if you see a $0.25 charge. There is no follow up needed from your end–this is simply our payment processor withdrawing the $0.25 to confirm the debit card before withdrawing the full amount. The test withdrawal will be returned to you.
Wire Transfer
If you choose to fund your investment via wire transfer, you will receive a detailed email with wire instructions once the necessary follow-ups to your account have been completed. Please also be sure to check your bank's wire fees and include this additional sum in your total funding amount before initiating the wire. Sometimes initiating your investment may take a minute or two to process, especially when we're experiencing high traffic on our website.
Completing Your Investment Follow-Ups
Once you have initiated your investment, you'll see a confirmation page along with a summary of the follow-ups you must complete in order for your investment to be formally closed. Follow-ups may relate to:
Completing your investor account: Head to your user settings, where you may be required to provide some additional background information. Please be sure to fill out this form completely.
Confirming your email address: This can be done by clicking the link enclosed in the confirmation email we send to the email address you provide when you register for a SeedInvest account.
Completing our affiliate relations questionnaire: This allows us to confirm whether or not you are an affiliate of the company you're investing in, which we are required to check.
Funding your investment: Funds from your account will not be withdrawn immediately if there are any pending follow-ups in your account. In this case, you will not receive the wire instructions to fund the investment until some of the necessary follow-ups are completed.
Assuming you are able to promptly submit information to address any and all follow-up items, your account should be reviewed and verified within 1-2 business days. However, not all follow-ups will be immediately addressable, for example those such as the penny test and wire instructions. Other items, such as ID verification, we manually review, so please allow our team 1-2 business days to complete these tasks. If we require any additional information or encounter any other issues, we will follow up with you directly via email.
Investing Via a Trust or Company Account
Trust Account
You will need to enter the legal name of the trust and the registration country. We will need to verify the registration of the trust via formation documentation and obtain some tax information related to the trust (as applicable).
Company Account
There are several options that you can select from the drop-down menu that best fits your company type. You can verify the entity through your entity's incorporation/formation documents, which we will ask you for in order to verify your company account. You will also need to confirm that you are authorized to act on behalf of the entity. The investment process with a company account is similar to investing through a personal account. The major difference is that you will also need to verify your company details including:
Registration of the legal entity and the corresponding documentation.
Tax information.
Suitability relating to the company account.
In some cases, we will need to see physical address verification for the entity (e.g. utility bills, company bank statements). This needs to be the address associated with the company or trust and not the mailing address, if different.
People Associated with Your Company or Trust
For a company or trust account you will need to add any other people who are associated with the entity. Individuals who are a control person, or anyone who owns 25% or more of the entity, will also need to undergo identity verification on the platform to verify the account. Our system will automatically send them an email invite to create an account and verify their identity. This is a regulatory requirement that we must conduct for all investors in order to facilitate their investment.
How Do I Check on the Status of My Investment?
You can view the status of your investments in your investor account by clicking on your profile picture/or initials at the top right-hand corner of your screen and then clicking on the investor account through which you initiated the investment. As a reminder, please make sure you're checking the right account here for your investment.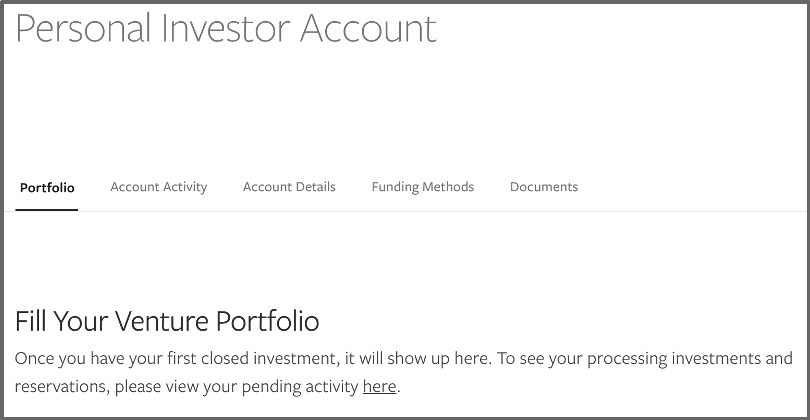 Closing Timeline
When you initiate an investment through the SeedInvest platform, your investment will be labeled as "Processing" while your funds are held securely in an independent third-party escrow account until the closing conditions have been met and the investment is formally closed. To protect investors, companies must reach a minimum escrow target to have a successful fundraising campaign. Investments are not finalized until the company raises enough money to meet its target and completes all other closing conditions and regulatory procedures. Only then will the money be released to the company. Once the company accepts your investment, your money will be transferred from the escrow account to the company in exchange for the purchased securities. Closings typically occur at the end of a campaign except in the case of Reg A+ offerings, which are done on a rolling basis once the company has reached their target minimum.
If you've completed the investment process, and the offering was not been oversubscribed at that point, your spot in the round is secure (SeedInvest operates on a first-come, first-served basis). We will proactively follow up if anything is needed to formally close and finalize your investment. Please note that the investment deadline refers to last day investors can complete the online investment process. Investors are given additional time to complete any required follow-ups after that deadline has passed (including funding investments).
Portfolio Page
The Portfolio page lists all completed investments, so please note that any investments that have not formally closed will not appear here yet.
Account Activity
To confirm if you've successfully completed the investment process, or to check on the status of a pending investment, click on the "Account Activity" Tab next to your "Portfolio" tab. This section will show you the status of any pending investments. You can see any initiated investments, as well as any incomplete investments that require follow-ups. If you have follow-ups, click on the "Follow-Ups" button, or click on the red notification icon to complete the remaining follow-ups.
If your investment is complete, you should see the status in green. For the most part, if your status under the description reads "Pending Escrow Funding", this means your funds are on its way to the escrow account and there is nothing left for you to complete. Similarly, if your status reads "Pending Investment Close", there is nothing further for you to do–all that is required is your patience while the company conducts a formal close. You will be notified via email once your investment has been fully closed upon and the status will then be labeled as "Closed". Once an investment has formally closed, it will be reflected on your Portfolio page.

Additional Resources
If you have any further questions about your investment status or what comes next, check out the "What Happens After I Invest?" piece on our Academy, as well as other helpful articles on our Blog where you can learn more about SeedInvest and startup investing. Or, get started with our weekly new investor webinars.
This post was written by SeedInvest on July 24, 2020