Watch our video guide to obtaining your EDGAR codes.
Prior to launching a side-by-side fundraise with SeedInvest, all companies are required to file a Form C disclosure document with the U.S. Securities and Exchange Commission (SEC). In order to file forms on the SEC, new companies need to retrieve their EDGAR (Electronic Data Gathering, Analysis, and Retrieval) filing codes. EDGAR is the system used by the SEC to handle federal securities filings. SeedInvest helps file the Form C on behalf of your company, but you must provide us with your company's own unique EDGAR codes.
The process is relatively quick and easy, but does involve completing a form called the Form ID (i.e., the application process outlined below) and a trip to a notary (or eNotary). The filing codes you will receive are your CIK, CCC, PMAC, and password. If you feel overwhelmed already, don't worry! We will walk through the various steps in order to complete this process.
Step 1: Accessing EDGAR Filer Management
The first step to obtaining your EDGAR codes is to complete your Form ID. To do this, you will need to access the EDGAR Filer Management homepage.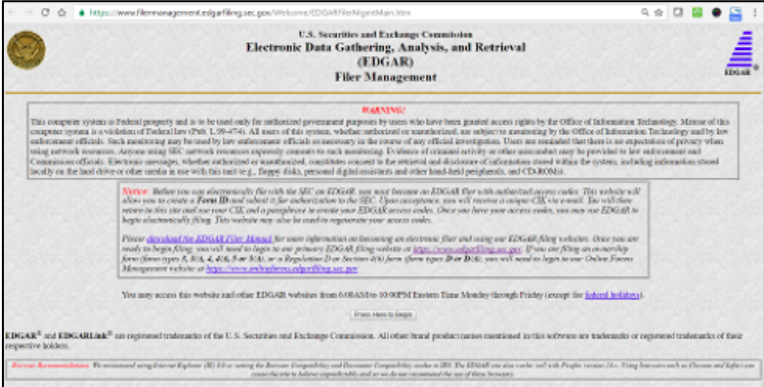 Step 2: Apply for codes
Once on the Filer Management page, you will see a list of links on the left hand side. Under "Filer Management", click "Apply for EDGAR Access (New)". This will direct you to another page where you can check "Application for EDGAR Access", and proceed to the Form ID. This online Form ID requires you to fill out your company information. Once you've read the instructions, head to the next page.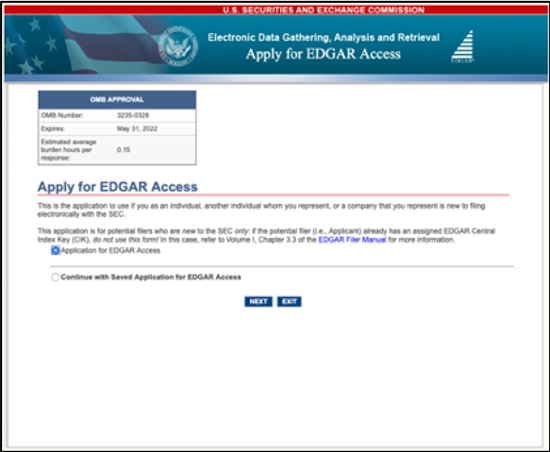 Section 1: Application for EDGAR Access
On the first page of the application, the fields should be as follows:
The applicant type should be "filer".
The applicant should be a "company", not an individual.
No need to check the box that reads "Access codes will be used to submit draft registration or draft offering statement".
Fill out the remaining fields with the company's information.
Section 2: Filer Information
Continue to fill out the fields for your company. Please note, If you do not have an alternate company name (i.e., "doing business as" or "foreign name") you may leave this blank.
Section 3: Contact Information
Fill out your contact information. Please note that the contact names provided can be the same as each other.
Section 4: Documents
Here you will see the Form ID document upload page. Skip this section for now – you will return to this step once you have completed, signed, and notarized the entire form.
Section 5: Signature
Fill out your signature, title/position, date, and continue.
Section 6: Add Passphrase
You will now create a passphrase. This passphrase needs to be eight characters long, contain one digit and one special character. Please save this passphrase as you'll need it to generate your codes down the line!
Once all fields are correctly filled out, remember to save. This will save the file in an EIS format, which retains all the entered information when you come back to the Form ID page. Please make sure you keep this file handy, it will likely be titled "ID-NEWCIK". This step is not necessary, but it will save you from having to re-enter this information again.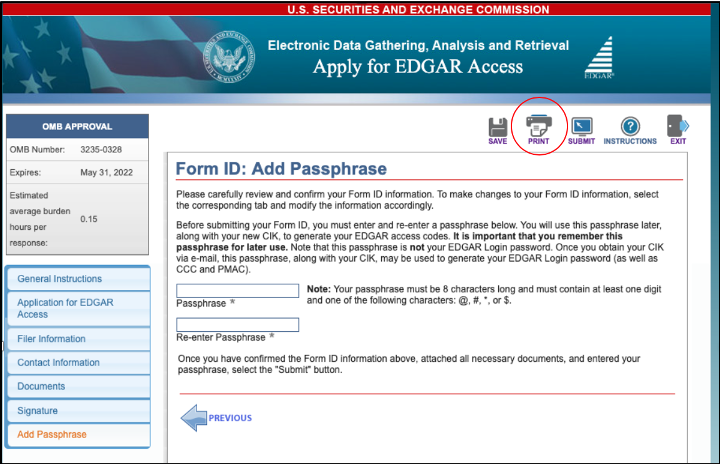 Now it's time to print. Printing should bring up a new window, but if this doesn't happen, make sure pop-ups are enabled on your web browser. This pop-up is a PDF version of the Form ID with all of the fields you just filled out, including a section at the end for a signature and notarization. Check to make sure the fields are filled out completely and accurately before printing.
Step 3: Getting the form signed and notarized
After printing the online copy of the Form ID, the signatory that was listed on the form will need to visit a notary. At the notary, the officer will sign the form and receive a notary certification. Typically, any bank the company has a relationship with will have a notary who will notarize the document for free. You can also use an e-Notary.
Step 4: Scan the paper Form ID
If you opted to manually sign and notarize the paper Form ID, it will need to be scanned as a PDF. Please ensure the PDF is searchable and that the text is recognizable. If you used an e-Notary you should already have a PDF, which you should ensure is searchable as well.
Step 5: Log back into the EDGAR Filer Management homepage
Return to the EDGAR system to file the signed and notarized Form ID. This time, make sure you select "Continue with Saved Application for EDGAR Access" and when choosing your file, upload the saved version of the EIS file ("ID-NEWCIK") generated earlier.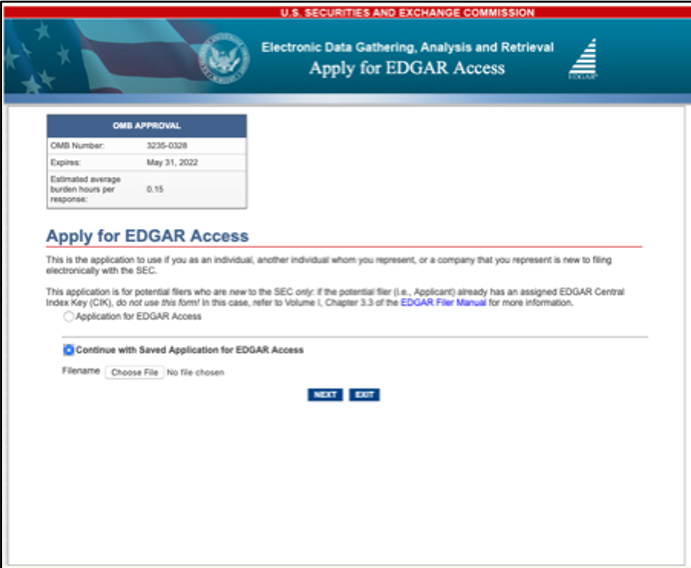 Step 6: Add notarized Form ID to the documents section
You will be taken to the "Apply for EDGAR Access" page once more. Click the "Documents" tab. Click "Add Document" to upload the Notarized PDF and when selecting a file type, select "CORRESP". For the description, enter your company name and Form ID. Once uploaded, click the checkbox next to the file, click "Validate Document", and submit.
If you do encounter an error with the PDF, you should be able to see what the error is by clicking on the box. You can look up the error type on the SEC page. The most common error we see is with uploading an unsearchable PDF, so please ensure that you save the PDF in a searchable format.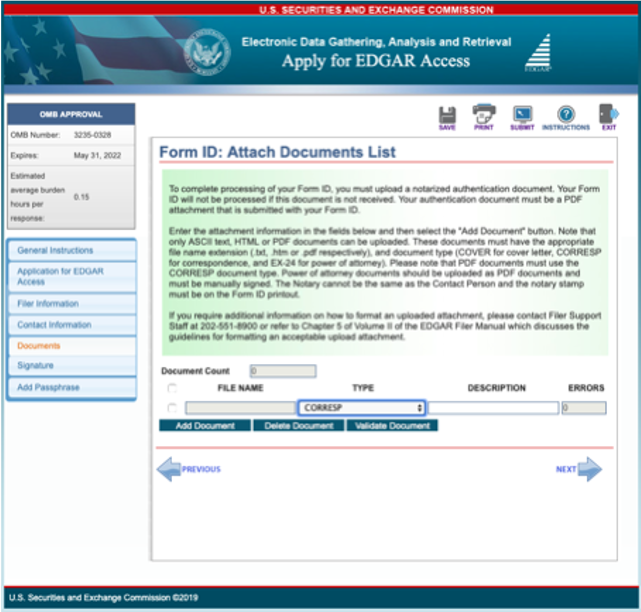 Step 7: Re-enter passphrase and submit
Add in the previously generated passphrase (which you hopefully noted down in a safe place!). Review each section to make sure all fields are filled out correctly and submit. If the information is correct, a confirmation pop-up will appear – click "transmit live submission". Now all that is left for you to do is to wait for the SEC to process your application, which can take up to 2-3 days.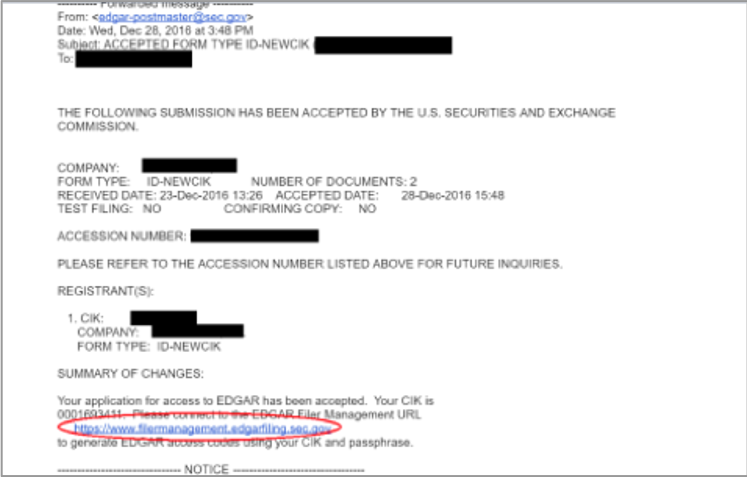 Step 8: Generating your codes
Once the SEC processes your application, you will receive a confirmation email requesting you to generate your access codes. The notice will contain your CIK code and a link to generate the rest of your codes. Follow the link back to the EDGAR Filer Management screen and click on "Press Here to Begin", followed by "Generate Access Codes".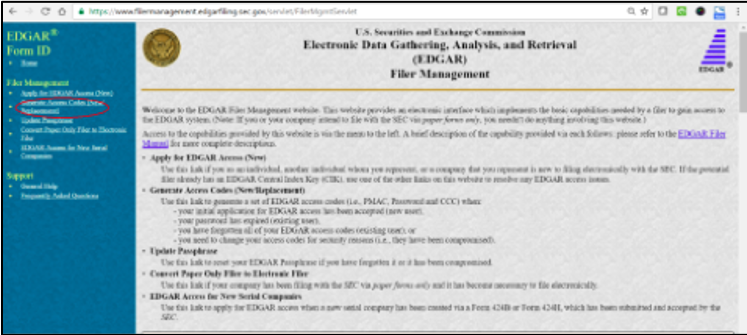 Enter your CIK and passphrase and click "Generate Access Codes", which should issue your codes. You will need to keep all four of these codes in order for us to file the Form C, the offering statement that is issued (we recommend saving the page and/or taking a screenshot). You will also need to remember your passphrase for when your codes expire, or in the event you lose the codes.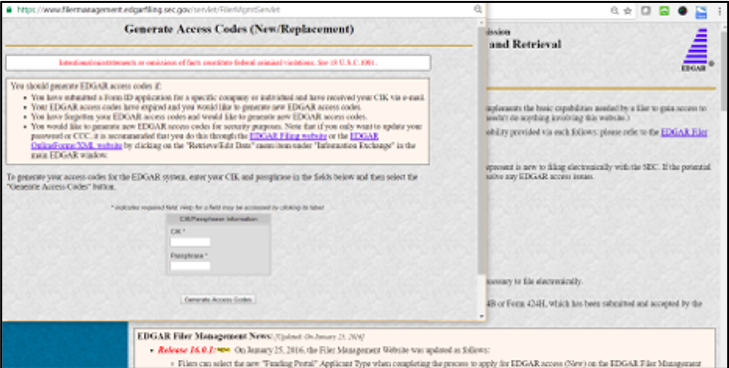 That's it! You have now retrieved your EDGAR codes. Visit the SEC website for more information.
This post was written by SeedInvest on September 24, 2020