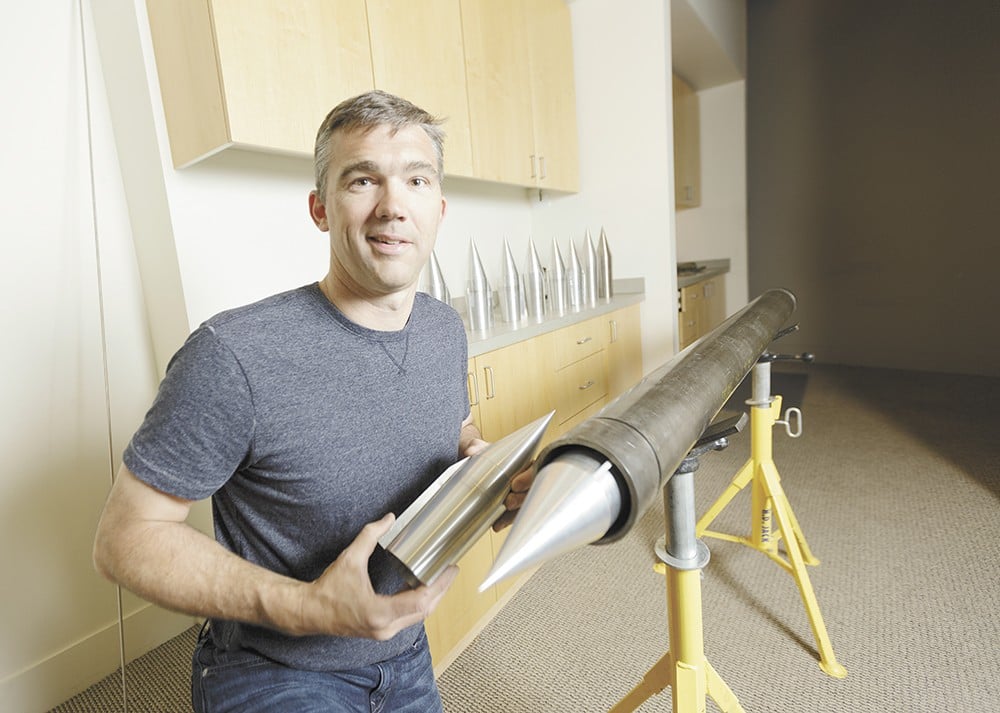 Mark Russell is the Founder and CEO of HyperSciences, which is currently raising a $10mm Series A round on SeedInvest under Regulation A+. In this post, the latest in our founder profile series, we explore how HyperSciences began, and how its technology could have exciting implications for the future of multiple industries.
How did the idea for HyperSciences come about?
"I left working on the crew capsule at Jeff Bezos' Blue Origin, looking for a new and better way to fly for aerospace applications that was better than conventional rockets. I am an inventor, passionate about finding a better way to travel, but deep down, I knew I wanted to learn everything I could about industrial and underground technologies, I had conceived and analyzed a space launch system concept that started from underground instead of on a launch pad, reducing or eliminating heavy, old technology. Blue Origin was going well but was dependent on conventional and incrementally slow technology. My family was in the mining business, so I joined them in drilling for minerals and developing mines after working at Blue Origin.
At one of our drill sites in Idaho, while managing the drilling of one of the deepest diamond drill core holes in North America, I had a flash insight. I had seen a technology years ago when I toured the University of Washington Aero/Astro department that could be applied for the underground space launch concept I mentioned earlier. I thought, 'what if we used UW's Ram accelerator, an in-tube hypersonic ramjet technology, and fly them upwards from deep underground.' The Ram accelerator allows for controlling G-loads and getting to speeds to put anything at the edge of space on momentum alone. I then called Dr. Knowlen — the lead of the Ram accelerator lab at the University of Washington — and started to sponsor his program. We built our own Ram accelerator and tested it in one of my grandfather's old silver mines, letting the projectiles fly hypersonically out of the tubes and into the rocks, breaking rocks and our equipment, with high velocity and pressure. We then realized it could not only be a great aerospace technology but could also be used to break rock possibly faster and deeper than any other technology. I had heard of Shell's Game Changers program, so I put a patent pending portfolio together and emailed the idea to them. They responded very interested in drilling and rock breaking (not space) and decided to enter into a research partnership with us to fund our development and testing. We then formed HyperSciences in late 2014 to develop all the terrestrial uses for Ram accelerator-based technology development. Shell has since provided us additional funding, along with a contract we received from NASA, and investments received from our Angel and current Series A investors."
What professional or personal experiences have set you up for success?
Education. "My undergraduate degree and Aeronautical engineering at RPI, and earning my master's degree at Stanford. I have always merged the hands-on practical engineering with the theoretical."
Boeing. "I think learning to sit down and be a great engineer at Boeing – writing thousands of lines of complex spacecraft separation codes – teaches you discipline."
Private Pilot and Kit built Aircraft Engineer/Pilot. "Having the desire and skills to bring that to reality to flight. I worked at Van's Aircraft, one of the world's largest kit-built aircraft manufacturer. I learned to design, build, test and fly. You could "do it yourself" with your own flight vehicles."
Blue Origin. "I worked on Blue Origin's first Vertical takeoff and landing vehicle, a 10,000 pound "drone" called Charon powered by four large jet engines. Great team leadership development along with hands on and tight schedules got me ready for leading Crew Capsule development. Crew Capsule was complex, and the analysis and hyper-incremental designs required sophisticated analysis and serious teamwork to solve."
Tech startup. "Starting my own startup taught me to keep grinding; next time you have a big idea, don't be swayed when VCs think it won't work. Find the money and stay focused on the customer."
Public Mining business. "Working with my family in the public mining business, drilling deep holes, making land deals, staking claims, writing press releases, and running multi-decade economics and bankable feasibilities as project director of a large-scale mining project gave me the business skills needed to lead a new company in both business and technology. There is value in the ground."
What have been the biggest challenges and most surprising thing about your journey?
"Financing new opportunities and platform ideas. My rideshare company Zebigo was just a little early and massively under-funded. I was told so many times by Silicon Valley and Seattle Venture groups that this would never work, people would be uncomfortable riding with strangers and we would be sued. I believed their wisdom. It turns out they were wrong.
I think it is also surprising how small, autonomous, well-funded teams can achieve incredible results. Blue Origins' first vertical takeoff and landing, Charon, was a small team of engineers and technicians. If the team is fully immersed and believes in the vision, and has the support needed, remarkable results are possible."
Why raise with SeedInvest? How has the experience with SeedInvest been thus far?
"Telling our platform story for Hypersonics is what drew us to SeedInvest. They define a clear, rational process that one can budget and plan to execute against. It is an awesome way to raise money for our Series A. This process has been much closer to my experience in my family's public mining companies, where you have a platform to tell the story of multiple opportunities within this company. In mining ventures, for example, you may have two or three properties – a gold mine, a silver mine, a copper mine. Investors get it, Venture guys don't. We have multiple patents, we have proven technology, and a few large markets to go after: Drilling, Tunneling, transportation and deep energy.
SeedInvest allowed us to tell that story. We have been live with the offering since early July, testing this crowd financing appetite for this type of opportunity, and have been thoroughly pleased with the outcome. We have raised over $3mm on SeedInvest, on our way towards our $10mm ultimate goal. SeedInvest has great leadership, technology, and marketing to get this out to a very thoughtful and sophisticated investment community."
How is HyperSciences' technology going to change the world in the coming decades, especially around transportation and natural resources?
"We believe one of the keys to accessing deep geothermal energy is deep, low cost drilling. Our repetitive hypersonic drilling technology called HyperDrill we believe will enable access to deep geothermal energy; and our concepts for low cost power plants will enable a new era in clean power generation. Partners, like Shell, see the vision of low-cost drilling as enabling for new resources.
Using our similar technology called HTBM (Hyper Tunnel Boring and Mining) we are getting closer to proving our cost-effective tunneling boring technology at-scale in hard rock field trials. This would enable low cost tunneling for projects for inter-city and intra-city transportation. Tunneling for projects such as Hyperloop allowing city-to-city transport from LA to San Francisco in 30 minutes or less. Or, enabling faster transit for electric cars under major cities to avoid congestion. Such concepts are being pursued by Tesla, The Boring Company, and others. We look forward to enabling a bright future in transportation.
On aerospace applications, we are still exploring the opportunities for terrestrial, in-atmosphere travel of such concepts as HyperDrone and other automated hypersonic air-breathing technologies to help our government (NASA, etc.) advance airbreathing hypersonics at a much faster testing rate than today. Our technology helps can help them leave the ground at hypersonic speeds, eliminating the need for expensive rockets and airplanes to get their experiments up to speed. This may lead to future decades of new hypersonic aircraft travel, connecting some of the furthest points on the planet in just 1-2 hours rather than days of travel. Needless to say, we are excited of what the future of this technology could bring."
HyperSciences is currently raising its $10mm Series A round in preferred equity. If you are interested in learning more about this investment opportunity, you may view the company's profile here: www.seedinvest.com/hypersciences
HyperSciences is offering securities through the use of an offering statement that has been qualified by the Securities and Exchange Commission under Tier II of Regulation A. A copy of the final Offering Circular that forms a part of the offering statement may be obtained from HyperSciences: www.seedinvest.com/hypersciences
These statements represent management's opinions. They do not represent guarantees of future results, levels of activity, performance, or achievements. This figure reflects management's current views with respect to future events based on information currently available and is subject to risks and uncertainties. This figure is meant for illustrative purposes and does not represent guarantees of future results, levels of activity, performance, or achievements.
This post was written by SeedInvest on November 14, 2018