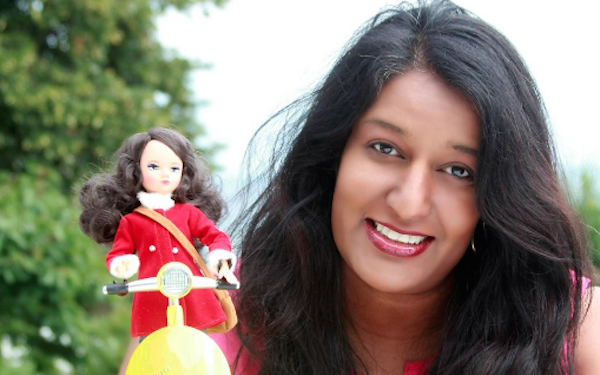 Robotics aficionado, educator, author, and mom, Sharmi Albrechtsen is CEO and Co-Founder of SmartGurlz, a robotics and software company focused on girls. Sharmi began her career as an author and journalist and eventually spent the last decade in communications. Right before founding SmartGurlz, Sharmi was the Associate Director of the Ida Institute, a non-profit organization whose mission was to empower adults and children to overcome hearing disabilities.
As CEO, she is the backbone of the company, ensuring that the company develops, markets and sells innovative products, and she has been recognized for her passion and commitment. Not only do SmartGurlz partners include BlackGirlsCode and Girl Scouts of America, but also AdWeek recently granted Sharmi its 2017 Disruptor Award, in Championing Gender Diversity in Advertising and Tech. She has also been featured in Forbes, The Huffington Post, Fox Business News, and CNET.
What led you to found the company?
"Of course we have all heard about the gender divide in STEM and how few women are taking STEM educational [paths]. These statistics became very real when a few years ago, I invested in a $150 robotic and coding building set for my younger daughter, Nina. Quite frankly, she rejected it. After opening the box and trying to build the 'robot', I could clearly see her disinterest. This is when the idea of SmartGurlz came to me."
Why do girls need specific learning products?
"Our robot, Siggy and our SugarCoded app are made with a girl's brain development in mind. For example, we have story based coding exercises that encourage her to be creative in 'applied math' while still being comfortable in her safe world of words, pictures, stories and concepts. Inspired by the work of Dr, Abigail James and her book, Teaching the Female Brain: How Girls Learn Math and Science, SmartGurlz is trying to change the way we teach girls STEM.
Studies show that girls' brains give them a verbal advantage, likewise there is data showing that boys' brains favor spatial skills that make it easier for them to visualize three-dimensional objects from different angles.
This gives boys advantages in math, robotics, and coding. And when you put girls in a mixed environment with boys, many girls lose confidence and lean away because the boys seem 'naturally better'."
Congrats on your Shark Tank appearance, what was it like?
"I had watched Shark Tank for years and was an avid fan. In fact, the show inspired me to become an entrepreneur. So after speaking with a producer at the Consumer Electronic Show (CES), let's just say, I was insanely happy.
The process is long and rigorous; the studio spends a lot of resources on due diligence and even researched all competing patents to our products. Funnily, they even found a few patents that our patent attorney had overlooked! I was very ambitious with my pitch and had a custom branded e-tuk van drive into the Shark Tank because I wanted to launch our idea of an after school van program called 'The Road to Code'. Working with Daymond John and his team has been amazing and I must admit that being a 'Shark Tank company' is a real quality check, as so few companies are chosen."
What have been your proudest accomplishments at SmartGurlz so far?
"So far some of my proudest moments have been achieving a 620% growth in revenue from 2016 to 2017, being featured in retail outlets world-wide, and launching our new product development project with Walmart for Q4 19. I am also very proud of our team! We have an incredible engineering team based at the Danish Technical University and they have won hundreds of thousands of dollars in EU grants. Our business development team include a former VP of Global Brands from Hasbro and EVP at LeapFrog as well as our newest consultant and ambassador Kari Byron, star of MythBusters."
SmartGurlz is offering securities under Regulation CF and Rule 506(c) of Regulation D through SI Securities, LLC ("SI Securities"). The Company has filed a Form C with the Securities and Exchange Commission in connection with its offering, a copy of which may be obtained at: SmartGurlz:/smartgurlz
"
This article may contain forward-looking statements and information relating to, among other things, the Company, its business plan and strategy, and its industry. These statements reflect management's current views with respect to future events based on information currently available and are subject to risks and uncertainties that could cause the Company's actual results to differ materially. Investors are cautioned not to place undue reliance on these forward-looking statements as they are meant for illustrative purposes and they do not represent guarantees of future results, levels of activity, performance, or achievements, all of which cannot be made. The company does not undertake any obligation to revise or update these forward-looking statements to reflect events or circumstances after such date or to reflect the occurrence of unanticipated events.
This post was written by SeedInvest on May 29, 2018