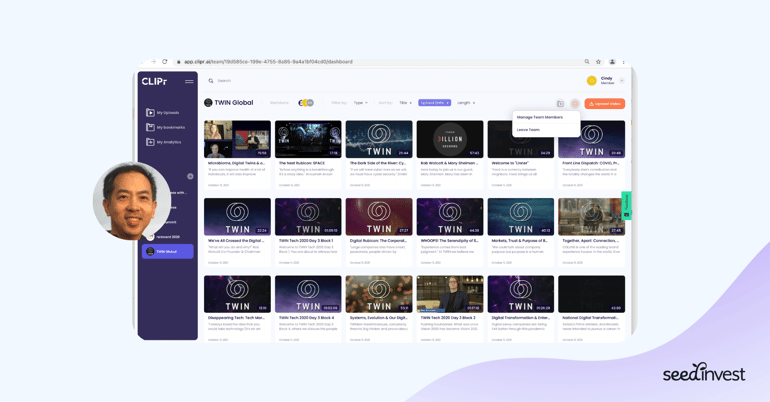 Video has become the preferred method of consuming content online, but with the enormous volume of video content out there, there simply aren't enough hours in the day to watch it all. CLIPr, an innovative startup currently raising their round with SeedInvest, wants to make video content more digestible, and as searchable as text.
CLIPr believes that not all minutes of video content are created equal, and that they're not all relevant to the viewer. Using a combination of advanced machine learning technology and crowdsourced user feedback, CLIPr indexes video content in a highly searchable manner and identifies the most relevant segments, making it much more efficient to consume and share content. This has wide-ranging implications for how video is produced and distributed for publishers and enterprises alike.
Launched during the height of the pandemic, CLIPr has already raised $6.2 million – including $4 million from strategic investor and client POLY (recently acquired by HP) – and is working with businesses and platforms including Microsoft Teams, Google Drive, and Zoom to help them slice and dice lengthy business meetings into easily digestible CLIPr'd moments.
We recently caught up with CLIPr co-founder and CEO Humphrey Chen to discuss the platform's progress, aggressive push into the video space, and grand plans for changing the way we share and interact with video content.
Interview has been edited for length and clarity.
---
SeedInvest: Talk a bit about the origins of CLIPr, and the timing behind its founding.
Humphrey Chen: A lot of it had to do with my background, when it was my job to help developers to see and hear at scale. I heard [co-founder] Cindy [Chin]'s desire to work down her video backlog in May 2020, which included Zooms she'd missed, earnings calls, which she was spending hours working through over weekends. That immediately triggered a lightbulb moment for me because I knew how to build that.
If I could help developers to see and hear at scale, why not help everybody to see and hear more efficiently at scale?
So I went to [co-founder] Aaron [Sloman] and told him what I had in mind, which was basically making video searchable and making it easier for people to find what they needed with the least amount of time required. Aaron's reaction was that it sounds so good, maybe we should do this for real. He asked me to put together the business requirements and told me how much money we needed. I bounced the idea off my former professor from Harvard Business School, and he's like, "I'm in!" and wrote the first check. That initial $100,000 check ended up turning into a $1.8 million pre-seed round, which gave us the resources we needed to field out the MVP.
I think the timing had to do with the fact that the world had shifted to video, yet the tools to consume video more efficiently didn't exist yet. The fact that we latched onto a problem people could relate to, and that people didn't doubt we could actually deliver on what we said we could do all made it a no-brainer for people to want to invest.
---
With some massive players like Meta and Google eyeing AI-based video analysis tools of their own, as well as other startups exploring the space, what makes CLIPr unique in an increasingly saturated world of video?
I think a lot of it has to do with our fundamental value proposition, which is that not all moments in recorded video are equally relevant. So it's our job to help you find that relevant moment. We use machine learning to make that video searchable, we generate an automated table of contents composed of topics and subtopics which allows you to skim any long-form video, which in this case is anything more than 3 minutes. The human attention span is low, so our focus is to help you find that moment as quickly as possible.
The thing that's also unique about CLIPr is that we're actually a video analysis and management platform, which means we have an API and all the tools we have available for CLIPrs' destination, we also make available for any platform so they can integrate CLIPr into their platform and get all of the benefits.
---
You currently hold 3 patents, with 4 more pending. How do you see those fitting into your journey?
Basically these are around different methods for ingestion, how we actually crowdsource the moments, as well as different outcomes that can be calculated based on what the inputs are. So the goal here around the intellectual property is you need to have a cluster of it. Part of the reason for us having the patents is we built CLIPr on top of commodity machine learning platform APIs. So if Amazon has a solid set of machine learning APIs, so does Google, so does Microsoft. So we told ourselves we're not going to reinvent the wheel. We're going to leverage whatever API already exists to help us get to market the fastest way possible.
For instance, our Amazon transcribe is based off of the Alexa corpus. How would we have support for 31 languages as a startup? It's just not possible. So we build on top of their platforms, and as we keep moving up, in the meantime their teams are basically our teams. And having been on the machine learning team, I know many of the leaders there as well, so we have access to them. Normally you wouldn't even know these people's names let alone their cell phone number.
---
What is your go-to-market plan for CLIPr heading into 2023? You have a number of partnerships in the works as well, how are you planning to leverage those?
We're getting ready to launch another part of CLIPr, a feature called Moment Maker. It's a connector within Microsoft Teams.
One of our key partners is a company called Global Workplace Analytics, who have been doing remote consulting for the past 17 years. One nice thing about the post-Covid world is three new employee classes now exist: fully remote, remote first, and hybrid, and all of them have recorded meetings. The partnership will entail them recommending CLIPr to their clients, which allows for those pilots to begin. So corporate communications ends up being one huge side of the business in terms of the direct sales channel. We're going to have the self-serve kick in later this year as well. In the meantime we've been focusing on the embedded part of the business where CLIPr ends up being an ingredient inside other peoples' platforms.
---
What are your plans for scaling CLIPr, and why is your team the right group to do it?
At Amazon the scale of things in general and AWS is just huge, so we actually build everything with scale in mind. The biggest value I had in my time at Amazon was to build a business "The Amazon Way." So that always meant doing things at scale in every aspect and minimizing the labor intensity. Aaron is ex-Microsoft, and in his previous life he was actually able to push S3 to its limits.
When you're doing stuff for studios in Hollywood and networks you end up hitting some pretty meaningful ceilings. [CBO] Chris[tine Eckhaus] is also ex-Amazon. Then if you look at our advisors, Diego [Piacentini] was actually a former SVP of Amazon, so we actually have two former members of Amazon's senior leadership team. Elliot [Ng] is also a partner at Google. So the advice we have is coming from these platforms, and our DNA is basically FAANG DNA.
---
What advice would you give to early-stage founders?
Obsessing over needle-mover customer needs. For us, that's meant being able to figure out what needs are meaningfully important versus which ones are distractions. So for those needle movers you have to be able to separate the wheat from the chaff.
We've also been focused around making things better, faster, and cheaper, ideally all three, but at least two. So for us, having priced CLIPr where we have audio understanding supplemented by visual understanding at half the price of audio understanding only, that suddenly becomes a no-brainer when you're trying to figure out what solutions to use to eliminate video fatigue or get more out of meetings.
Another point is around being opportunistically reactive, but while staying focused. It's easy to be myopically focused, but then when things happen that are beyond your control, sometimes you do need to react to them because it can change everything. The last thing I'll highlight is that as a founder, I document everything that's meaningful weekly. This is actually really good etiquette when you're forced to reflect back on what went well the previous week, what didn't go well, and then what needs to happen the next week. Simple reporting like that instills accountability for everybody and is actually good operating hygiene.
---
Why did you choose to raise on SeedInvest?
One leg of our business is going to be on the prosumer side, so we felt this could actually build our network of evangelists because we needed more awareness and wanted people who are personally invested in CLIPr to become advocates within the community themselves.