By Admin
February 3, 2016
2 minute read
I wanted to take a moment to talk about the importance of good design. We've been working with New York based Piggyback Letterpress on our new business cards and it got me thinking about the importance of first impressions.
Making a good first impression is important for any business, but first impressions are especially in the venture capital industry. An entrepreneur's first pitch, an initial review of an investor deck, or how an investor presents their firm during an introductory meeting can determine whether or not a deal moves forward.
When we meet with investors and entrepreneurs, leaving a good first impression gives our clients a glimpse into the quality of business we conduct. To me as a designer, nothing solidifies this more than a well-designed business card to leave an impression that lasts long after the initial handshake. Recently, I led a redesign of this often overlooked but crucial aspect of brand design.
When designing our business cards, it was important for the design to reflect the culture of SeedInvest, while keeping our clients in mind. Across our company, we interact with investment professionals, angel investors, and entrepreneurs on a daily basis. With this audience, it's important for the design to be straightforward, sleek, and professional.
After reviewing several business card printers, I found a company that reflected the same values and design principals as our own, Piggyback Letterpress. Like SeedInvest, Piggyback prides themselves on their quality of work. The company does a great job combining the nuance of traditional letterpress with modern line graphic aesthetics. Their cards stay simple, sleek, and professional by dodging complicated design options and sticking with a single dense black ink, double-thick cotton paper, and a single-sided letterpress. After finding a printer that could deliver the look we wanted, I next turned towards designing the content of the card.
In order to achieve that simple and elegant look from the letterpress, I was cautious of the spacing around the elements of the card. I gave unrelated elements 0.2 inches and related elements 0.1 inches of padding. This gave the content enough room to breathe and helped with legibility. I then created a distinct hierarchy on the card. It was important to organize and rank the content of the business card in a manner which helped lead the reader's eye to the important information. Hierarchy is also achieved by creating contrast so that specific elements stand out from their counter parts. I created this contrast on SeedInvest's cards by using scale, bold text, and capitalization to differentiate elements.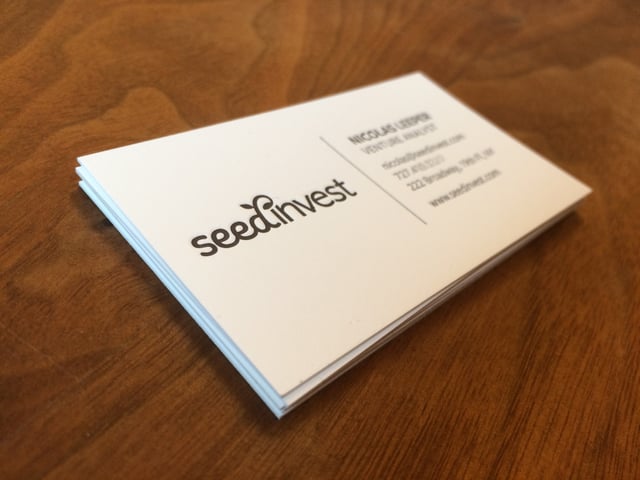 In the end, the result is a minimalist design, which will remind entrepreneurs and investors alike of the intense, professional culture of SeedInvest. We loved working with Piggyback Letterpress and we'd recommend them to anyone looking to make a strong first impression.