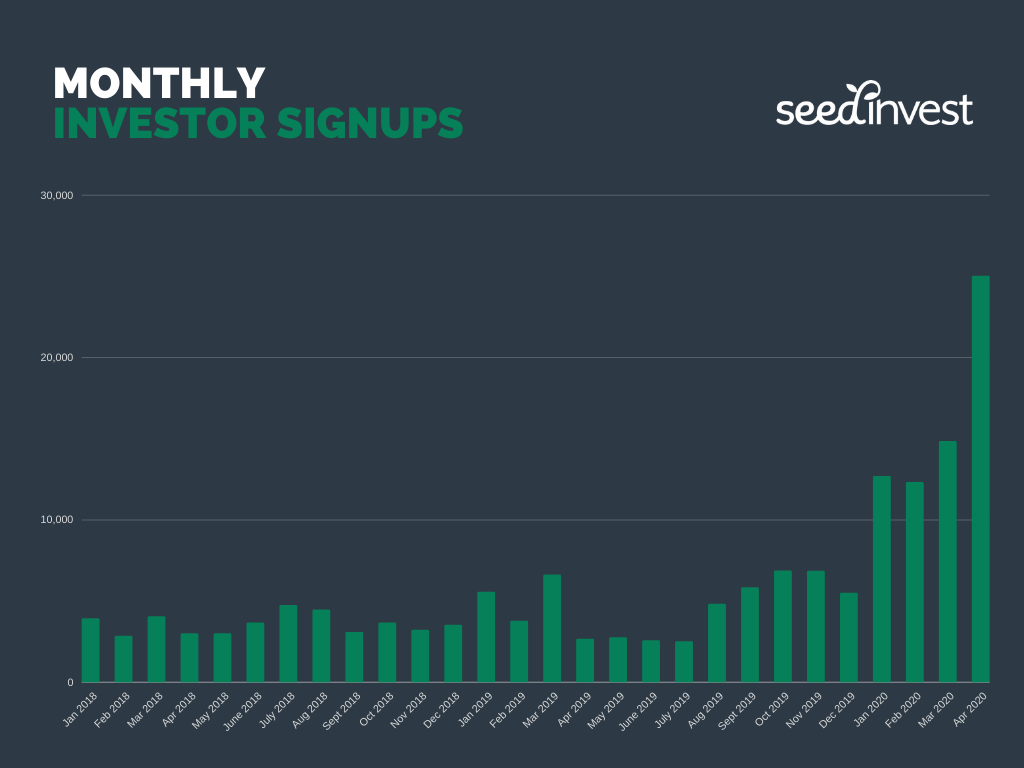 A lot of people have been asking how our business has held up over the last couple of months since COVID-19 took the world by storm, and we wanted to share the answer with our entire community. Obviously, from a macro perspective, things have become much more challenging for the vast majority of businesses, but SeedInvest has fortunately thrived in this "brave new world." Quite simply, over the past couple months, we have seen by far the best activity since we founded SeedInvest eight years ago.
SeedInvest's Recent Activity
We are on pace to break 100,000 new investor signups in the first half of 2020 which exceeds

all of 2018 and 2019, combined

.
Our investment volume and the number of investments in the first half of 2020 will exceed our investment volume

during all of 2019

.
In April we saw the highest investment volume we have ever had, and Q2 will be the

best quarter we've ever had

by all measures.
Investment volume in Q2 2020 is on pace to be

more than triple

that of Q2 2019.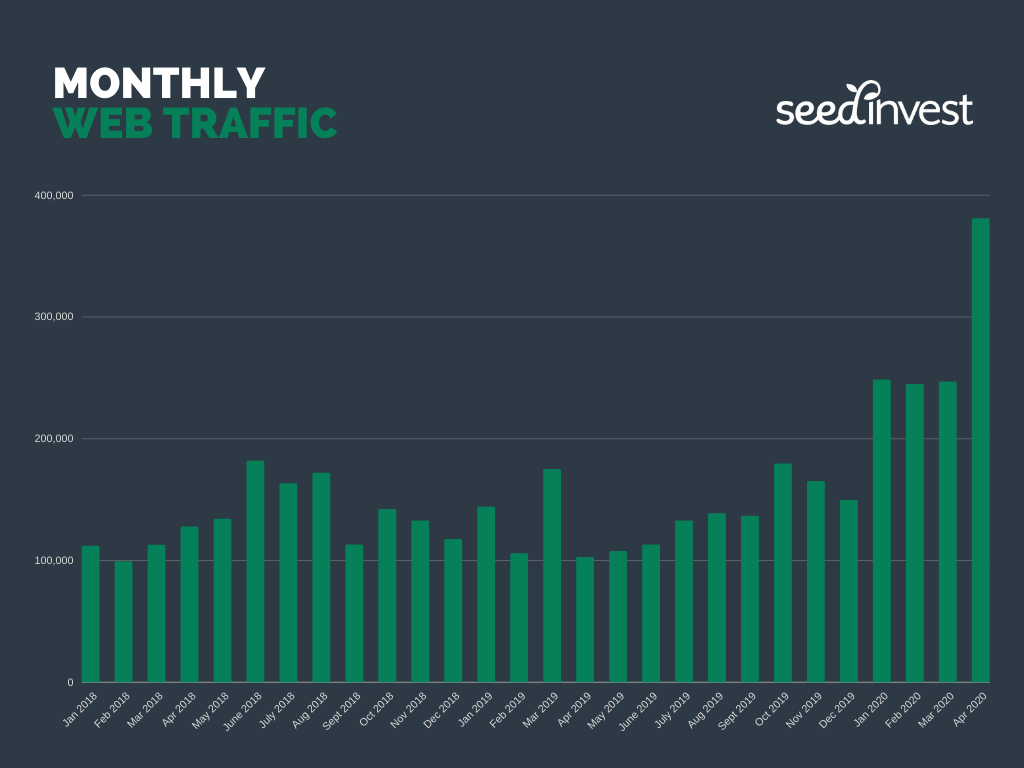 What is Causing This?
Over the past decade, there has been an accelerating, long-term shift in most types of commerce and consumption moving online, and COVID-19 seems to be a catalyst to accelerating this shift. Take retail, for example. Amazon has been disrupting physical retail for years, but COVID-19 has recently forced many consumers to shift their everyday purchases online for the first time. Once those consumers get a taste of two-day delivery (after supply chains normalize again), better pricing and overall convenience, many may never return to brick-and-mortar stores. The same may be true for fundraising and investing.
Since we helped get the JOBS Act signed into law in 2012, traditional offline fundraising and investing has been gradually shifting online and, similarly, COVID-19 appears to be a catalyst that is accelerating this shift. On the investor side, over the past couple months, people have been at their computers more, opening more emails, spending more time on the web and investing in more startups. On the entrepreneur side, traditional offline fundraising is effectively frozen (more on this below) so online fundraising is now one of the only games in town. As with Amazon, once entrepreneurs and investors experience a more efficient and less painful offline process, how many will go back?
Venture Capital is Frozen
As a result of the COVID-19 crisis, there has been a meaningful disruption in the availability of venture capital seemingly available for startups. Many venture capital firms are treading lightly, less confident of whether they will be able to raise their next funds as current portfolio valuations are tested and as pensions and endowments are now suddenly overallocated to venture capital and private equity given declines in their public stock holdings. Also, with less outside capital expected over the next couple years, venture funds will likely need to allocate more of their time and money to existing portfolio companies. This means venture capital will be less abundant, be harder to raise, take much longer to obtain and will likely come with less attractive terms for entrepreneurs. We've already begun to see the impact – U.S. venture capital investment volume was down 46% in April compared to March, and down 43% year-over-year.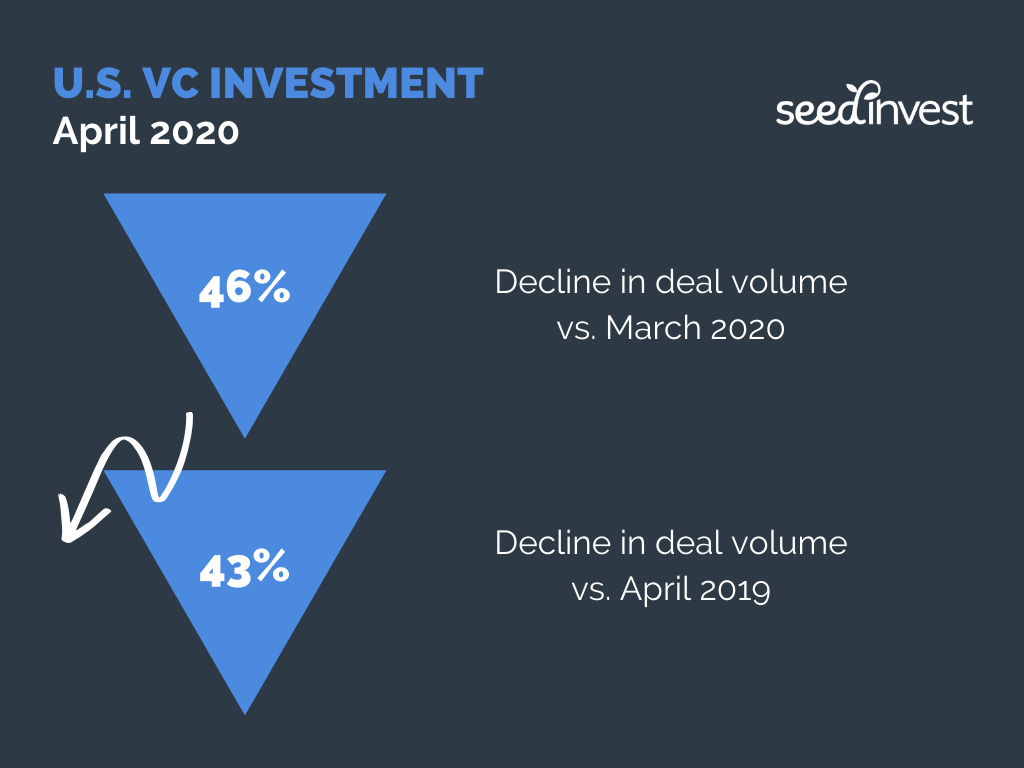 To make matters worse, the Paycheck Protection Program loan provisions under the CARES Act, which are meant to cast a lifeline to struggling startups and small businesses, cut out many venture funded businesses due to a legacy SBA "affiliation" provision. Essentially, if a startup has taken on venture capital, they might need to include that investor's other portfolio company employees when calculating their own employee count for the CARES Act, which typically pushes companies past the SBA limit. As a result, many startups are currently scrambling to find alternative sources of capital.
More Startups Should Look to Online Fundraising
Unlike venture capital firms, online fundraising platforms are perfectly situated to help startups in the current, post-COVID-19 world we are in. Online fundraising platforms are not dependent on capital from a handful of pensions and endowments, but rather a large, diverse network of investors (SeedInvest has had over 350,000 investors register for example). Additionally, while the traditional venture capital investment process is highly dependent on in-person meetings (which is next to impossible in the current environment), the online fundraising and investing process is inherently digitally native. Furthermore, there are a number of pending improvements to U.S. securities laws (the most significant changes since the JOBS Act was signed into law), which will turbocharge online fundraising for entrepreneurs and investors alike.
This post was written by SeedInvest on May 30, 2020