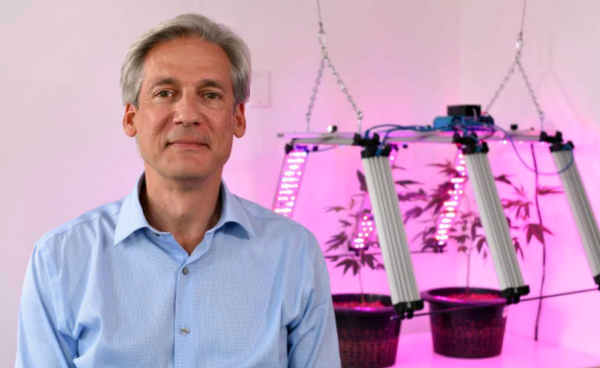 Rick is the President & CEO of Growgenics, advanced, customizable LED horticultural shape-lighting for indoor farming and cannabis. We sat down with Rick to get his take on the impact of the COVID-19 pandemic and the resulting economic downturn, particularly within the cannabis space. [1]
What do you see as the greatest business challenges, especially for early-stage companies, during the COVID-19 crisis?
With regard to challenges at Growgenics, our major concerns are the health of our employees and the financial well-being of our company. Many companies, including our own, are facing a host of unique challenges during these uncertain times. Of those challenges, we perceive the greatest to be suspensions of face-to-face field sales, interruptions in cash flow, and the need to pivot and devise new communication and marketing tactics to avoid losing momentum with developers, investors, partners, prospects and employees.
What has been Growgenics' response to these challenges so far?
Overcoming adversity is considered part of the daily routine for any successful startup and we are proud of our ability to adapt and thrive. We've taken several crucial steps in response to these challenges. To keep our Growgenics family safe, we instituted a "work from home" policy, as have companies across the globe, and our team collaborates daily via phone and video conferences. One such collaboration is taking an old-school approach to marketing during nationwide social distancing. We are pivoting our marketing program, drawing on our team's vast collective years of business development experience, to combine modern communication systems with traditional contact methods to maintain and grow our business, regardless of the turbulent global market. We are also staying on top of the federal and state programs being released to provide income for our team, their families and to maximize cash flow. Finally, we are attacking margins and expenses aggressively to find ways to reduce cost.
How has COVID-19 affected Growgenics' business (if at all) and why do you think that is?
While we have experienced some problems, we are also discovering the necessity of our technology in the newly defined "essential" legal cannabis market in certain states. Yes, some major decision makers have placed a few high-volume programs on hold. Yes, our current UL testing timetable has been lengthened. However, we're also realizing the benefits our technology can have for Americans seeking safety and control in the midst of uncertainty, as our lighting system aids those growing food and/or cannabis from home in states where legal. Accelerated by the Covid-19 situation, we are also currently in the process of rapidly developing a Growgenics food home-growing solution. By utilizing our modular LED light segment system, we intend to reconfigure our newly designed commercial plant clone products into a consumer-based countertop and wheel-based vegetable and micro green growing stations.
What impact do you think the COVID-19 crisis will have, particularly on the cannabis space, over the coming months?
Ironically, COVID-19 is expected to increase demand for cannabis as millions are "sheltering in place." Fox 5 News writes, "The Weedmaps online directory has documented a big jump in delivery and pickup orders […] California saw a 66% increase in order volume in the second week of March, compared to the first week." Many people are turning to the benefits of state legal cannabis and CBD products to help them navigate these uncharted waters, and our lighting products provide high heat and energy efficient solutions for commercial growers and home growers in need.
How would an economic downturn affect Growgenics' business?
We believe our end markets of cannabis, CBD, and indoor vertical food farming will continue to grow, independent of an economic downturn. Sliding economics do affect all businesses differently, but luckily we're a nimble company that can adapt quickly. Though many markets, such as travel and leisure, have suffered, consumers facing anxiety, uncertainty, and distress are seeking comfort in legal cannabis, alcohol, and food. This is why, whether the country is facing a Bull or Bear Market, we are optimistic that Growgenics will thrive.
Sequoia Capital published a note advising companies to "brace ourselves for turbulence and have a prepared mindset for the scenarios that may play out." What steps is Growgenics taking to adapt to a potentially turbulent future?
As Charles Darwin observed long ago, and it's as true today as ever, "It is not the strongest of the species that survives, nor the most intelligent that survives. It is the one that is most adaptable to change." We intend to adapt in order to survive and grow.
Growgenics is offering securities under Rule 506(b) of Regulation D through SI Securities. Additional information may be obtained from: Growgenics: /growgenics/series.a
This post was written by SeedInvest on April 21, 2020