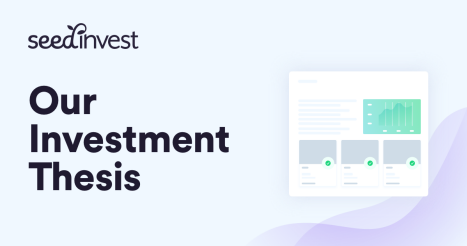 At its core, SeedInvest targets startups and founders that have the greatest chance of executing on their business plan and creating a valuable and successful company. SeedInvest offers potential investors access to startups analyzed on criteria like growth potential, intellectual property or a robust roadmap to an MVP, prior industry experience and how businesses plan to deploy funds, among many other considerations.
This analysis means that only a small fraction of businesses that apply to SeedInvest are featured on the platform—less than two percent. But this helps provide confidence that only the companies with the best chance of success are offered to investors. Correctly executed, this strategy can create a win-win-win outcome for SeedInvest, investors and founders alike.
That ultra-high selectivity is a key part of SeedInvest's value proposition to our investor user base of more than 600,000, who know the companies that get listed on our platform have been carefully scrutinized. For founders, the rigorous vetting process led by our Venture Team and Investment Committee is a trial by fire where their business and its potential for growth are put through a strenuous stress test. While making it through our vetting does not guarantee success, both our investors and founders can obtain confidence in our process to list companies on our platform.
Joining the SeedInvest platform can also help strengthen your business, requiring founders to develop a deep understanding of their current financial position, the size of their addressable market and growth potential, and how they plan to deploy capital following a potentially successful equity crowdfunding round.
Ahead, outline our philosophies and processes when reviewing applications and provide insights that may help strengthen your application.
We Are Interested in Businesses, Not Ideas
Without a viable business framework currently in place, SeedInvest may not be your best option for raising capital just yet. At SeedInvest, we look for startups with a well-planned business model, demonstrable traction in their industry or among existing customers, strong growth potential, and the possibility of generating a return for investors.
There are also some key factors that could help determine if your business is a good fit for SeedInvest. If your startup has gone through a great accelerator program or has a huge and devoted user base, you could be well positioned for an equity crowdfunding raise. Having excellent intellectual property, or a founding team with strong prior experience could also indicate a good fit. The more of these attributes your business has, the better your chances of being approved for the SeedInvest platform.
The advent of the internet has made it easier than ever to connect founders with vast networks of investors to raise the funds they need to fuel the growth of their business. Facilitating that process is our primary goal, but at the end of the day what it all essentially boils down to is "is this business a good idea?" and "is this the right team to execute it?"
We Look for Founders Raising for the Right Reasons
When getting to know founders that want to raise with SeedInvest, it's important to know if they're seeking capital for the right reasons. Founders' motivations for raising money through equity crowdfunding vary, but one thing we consider very important is whether they're fundraising for the right reasons.
When a founder shows us they've built a prototype, it works as intended, and now they need to hire a team to help with execution, this could indicate a good fit for the SeedInvest platform. When a founder tells us they have a great product and have seen a great return on their small-scale ad spending but need more money to ramp up their marketing efforts, that could indicate a mindset in-line with what we look for in a successful startup.
There are also reasons a business might want to pursue equity crowdfunding that don't align with the SeedInvest vision. For example, a founder that has been running a company for several years and now wants to take some money out or a business that took out a high-interest startup loan in the past and now wants to raise funds to retire that debt. That might help the business restructure its capital, but would be unlikely to help grow the business or generate value for investors.
We're also interested in whether funding being sought is aligned with the current conditions at the company. Previously assigned valuations can obscure the reality of a business, so we're careful to make our own evaluations when getting to know you. We look for key traction points; real numbers or statistics that speak to what the company has achieved and how it might perform in the future.
"I look for a seasoned entrepreneur that knows what they're doing as an industry veteran and really just needs the money to grow. They have their game plan, they're ready to execute, and want to raise some cash and not have to give up two board seats or have a boss," explained SeedInvest Venture Team Senior Associate Christopher George.
"These founders realize that the process is not, 'I'm just going to submit my application and sit back and watch you guys collect my money.' It's very much a partnership, so the founders who are bought into the process and engaged from the get-go tend to do best with us."
The Industries and Sectors That Interest Us Most
In the early days of equity crowdfunding it was commonly thought that consumer companies were the one natural fit for the fundraising method, but as the space has matured, opportunities have expanded to include virtually every sector in existence, from HealthTech to Robotics, Blockchain to Sports Betting.
SeedInvest is industry and geography agnostic. More important than the industry in which a business operates, we look for businesses that have set out to solve a real problem, like emerging market FinTech companies positioned at the forefront of a global payments revolution.
"The ability to move your money anywhere all over the world instantly is going to be insane. It's leading to these new banking options that are way better than what we have to offer in the market," says Aaron Kellner, SeedInvest's Venture Director.
The COVID-19 pandemic put a new global emphasis on the importance of health, and a number of companies pursuing exciting advances in the HealthTech space have recently caught our attention. "We're talking to this company right now that is basically trying to make a robotic version of FDA trials. The hardest part of FDA trials is repeating tests in a scientifically rigorous manner, so they're essentially making a gigantic robot that can literally do this all day, every day," says Chris Geoge, SeedInvest Venture Team Senior Associate.
Another industry that's been given a much-needed technological makeover in recent years is real estate, which has seen the rise of some interesting PropertyTech startups in the space. "We're starting to see some of this property technology really pay off and create solutions for property owners and managers. It's taken a while to tinker with that industry, but I think it's a really fascinating place right now," says George.
That's just a snapshot from our Venture Team of the kind of verticals that tend to be a fit for equity crowdfunding. The startup space moves quickly, and our team is always scanning the horizon for unique opportunities across a wide array of other industries and sectors.
The Intangibles Matter Too
You've submitted your application package and wowed us with your financials, cap table, and projections. You've put together a concise yet compelling pitch deck, and have given us a complete, by-the-numbers look at where your company is today. But that's only part of the picture we look at. Financial performance, business plans, and existing cap tables all factor into having your application accepted and raising equity crowdfunds with SeedInvest. But they're not the only attributes we consider.
To get a more complete picture of prospects for success, we look for founders with a clear-eyed vision of what their business is trying to achieve, what it's done in service of those goals so far, and, perhaps most importantly, what it wants to achieve through a partnership with SeedInvest.
"One of the first things [we] look for is their ability to communicate effectively about what they're doing, why they're fundraising, and how their business is going. That communication is key because it's a personal relationship at the end of the day," said SeedInvest Director of Venture Aaron Kellner.
"I get fired up when someone says, very clearly, 'Here's what I'm doing now, here's what I'm trying to do going forward, here's why I'm raising money.' From there on our side it's like, how can we work together and support you?"
Remember—SeedInvest only makes money when listed startups complete a successful crowdfunding round, and we invest a great deal of time and energy into helping our companies thrive. This means we have skin in the game, and are directly invested in your success.
---
Important Disclaimers
This presentation should not be viewed as a current or past recommendation or a solicitation of an offer to buy or sell any securities or to adopt any investment strategy. Past performance is no guarantee of future results, and there can be no assurance that an investment strategy will be successful or that the historical performance of an investment, portfolio or asset class will have a direct correlation with its future performance.

SeedInvest's due diligence process is no guarantee of success or future results. All investors should carefully review each investment opportunity and cancel their subscription within the allotted time-frame if they do not feel comfortable making any specific investment based on their own DD. Learn more about due diligence on the

SeedInvest Blog

and our vetting process in our FAQs

.

Past performance is no guarantee of future results. In addition, SeedInvest's due diligence process is no guarantee of success or future results. All investors should carefully review each investment opportunity and cancel their subscription within the allotted time-frame if they do not feel comfortable making any specific investment based on their own DD. Learn more about due diligence on the

SeedInvest Blog

and our vetting process in our

FAQs

.

All securities-related activity is conducted by SI Securities, LLC dba SeedInvest, an affiliate of Circle Internet Financial, and a registered broker-dealer, and member FINRA/SIPC.