Below is a guest post from MF Fire CEO, Paul LaPorte. MF Fire is raising capital on SeedInvest.
The biggest renewable energy source might be growing in your backyard.
Which renewable energy source is the biggest in the U.S.? Solar? Wind? Geothermal? The answer is the humble wood stove, and MF Fire's smart, ultra-clean catalyst stove may be the best yet.
According to the U.S. Energy Information Administration, the most popular form of residential renewable energy doesn't come from wind, or geothermal, or solar, but from wood heat–and it's not even close. Wood provides more than five times as much renewable energy as the next closest source, and four times as much as every other type of renewable energy source combined.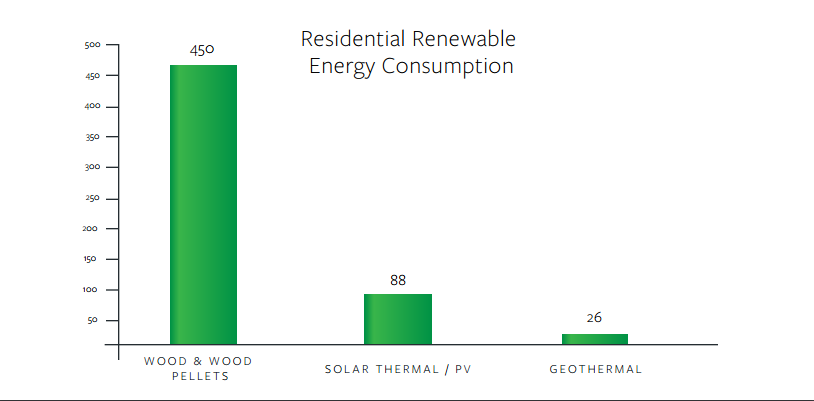 In recent years, wood heating has grown dramatically across the U.S., especially in the Northeast. All nine states in the New England and the Middle Atlantic Census divisions saw at least a 50% jump from 2005 to 2012 in the number of households that rely on wood as a primary heat source . In 2014 alone, the U.S. Hearth industry saw a 34% growth in sales of cord wood stoves and a 64% growth in the sales of wood pellet stoves . In total, about 12 million American homes use wood as a primary or secondary heat source.
---
---
Despite the thriving market, traditional wood stoves have problems: they are dirty, unsafe, and difficult to use. MF Fire's Catalyst's attempting to address this issue.
---
The Catalyst won the 2014 MT Clean Energy Prize, Grand Prize at the 2014 Wood Stove Design Challenge, and the Low Emissions Prize at the 2013 Wood Stove Design Challenge. John Ackerly, president of the Alliance for Green Heat, an organization that has sponsored wood and pellet stove design challenge for the past three years, is a fan, "It's certainly a very high-performing stove, an innovative stove" said Ackerly.
To learn more about MF Fire and Catalyst, visit MF Fire's offering page: www.seedinvest.com/mf.fire/seed
---
MF Fire (the "Company") is offering securities under Regulation CF through SI Portal, LLC ("SI Portal"). The Company has filed a Form C with the Securities and Exchange Commission in connection with its offering, a copy of which may be obtained from www.seedinvest.com/mf.fire/seed/filing. SI Portal is an affiliate of SeedInvest Technology, LLC, and a FINRA/SEC registered funding-portal, located at 222 Broadway, 19th Floor, New York, NY 10038. SI Portal does not provide investment advice related to issuers or their offerings, or an assessment of any characteristic of the issuer, its business plan, its management or risks associated with an investment. In addition, SI Portal will receive cash compensation equal to 5.00% of the value of the securities sold and equity compensation equal to 5.00% of the number of securities sold. Investments made under Regulation CF involve a high degree of risk and those investors who cannot afford to lose their entire investment should not invest. Furthermore, the Company's profile and accompanying offering materials may contain forward-looking statements and information relating to, among other things, the Company, its business plan and strategy, and its industry. Investors should review the risks and disclosures on the Company's profile. The contents of the Company's profile are meant to be a summary of the information found in the Company's Form C. Before making an investment decision, investors should review the Company's Form C for a complete description of its business and offering information.
This post was written by James Han on July 29, 2016