WayBetter, the company which runs the social dieting website DietBet, has successfully conducted one of the first "testing the waters" fund-raising campaigns on SeedInvest under the new mini-IPO rules, which went into effect on June 19. The company received $9.3 million of investment interest from 3,171 people within just 48 hours of listing.
Historically, start-up companies were only permitted to raise funds from accredited investors, who comprise just the wealthiest top 2% of Americans. Now, the new regulation, under Title IV of the U.S. JOBS Act, enables high-growth private companies to raise up to $50 million from anyone.
This change is particularly powerful for consumer-facing companies that have large-scale groups of passionate customers or users. "Regulation A enables companies to offer shares to all of their loyal customers for the first time online," says Ryan Feit, SeedInvest's CEO and Co-Founder. "WayBetter was the first company to leverage SeedInvest to take advantage of the recent changes and is a terrific example of the potential for mini-IPOs."
Over 40 companies have raised capital through SeedInvest but WayBetter was one of the first back in 2013. Since then, it has grown from 4 employees to 15 and increased its user base from 2,000 to over 270,000. The company has raised two rounds of capital on SeedInvest's platform, as well as secured investments from River Park Ventures, Wilson Sonsini, Sparx Ventures, Kima Ventures, and Loeb Enterprises.
WayBetter plans to use the proceeds from its upcoming fundraise to help create new social goal-setting applications which encourage users to quit smoking, attend the gym and improve sleep patterns. By gauging investor interest upfront through this campaign, the company was able to make a better-informed decision prior to conducting a Regulation A mini-IPO. SeedInvest expects that WayBetter will be the first of many companies to leverage the historic changes in securities laws.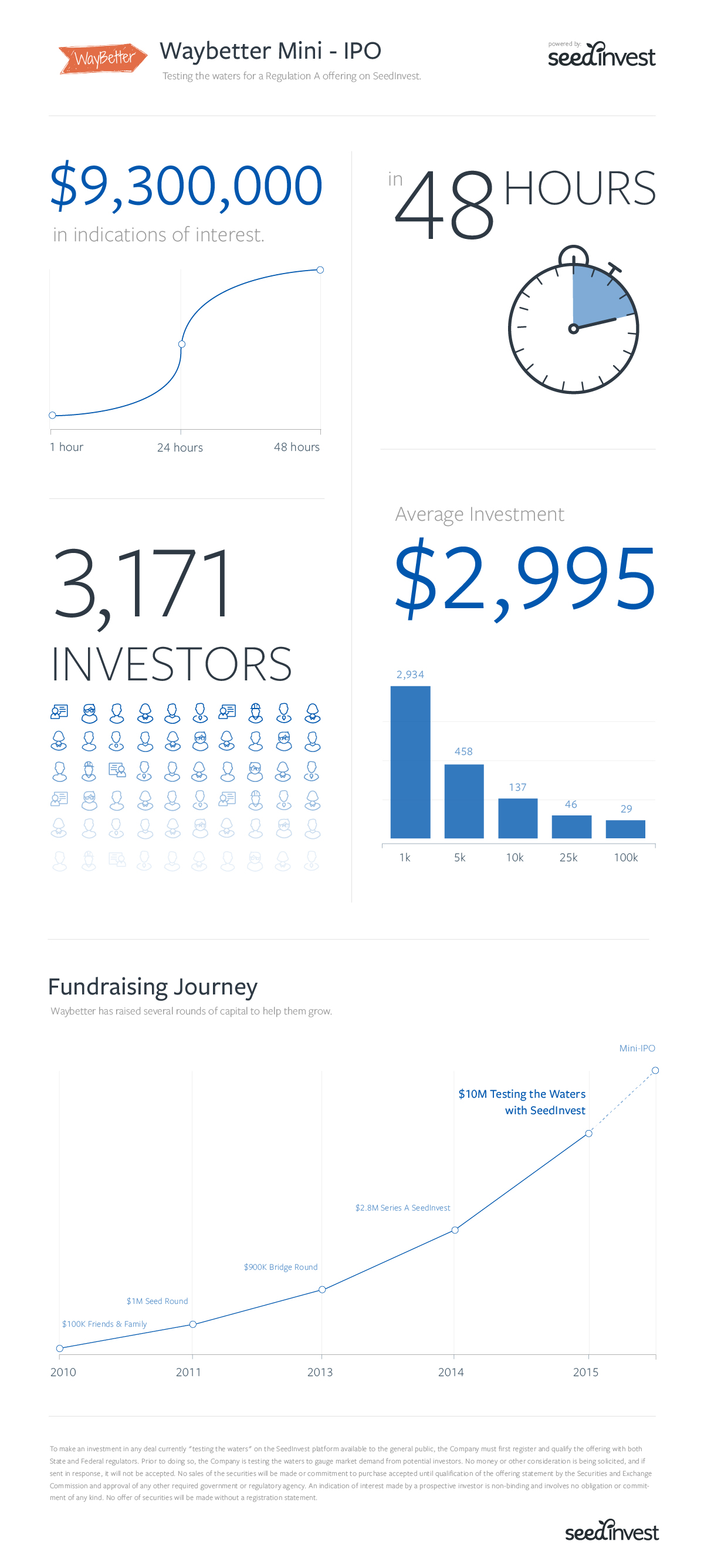 To make an investment in any deal currently testing the waters on the SeedInvest platorm available to the general public, the Company must first register and qualify the offering with both State and Federal regulators. Prior to doing so, the Company is "testing the waters" to gauge market demand from potential investors. No money or other consideration is being solicited, and if sent in response, it will not be accepted. No sales of the securities will be made or commitment to purchase accepted until qualification of the offering statement by the Securities and Exchange Commission and approval of any other required government or regulatory agency. An indication of interest made by a prospective investor is non-binding and involves no obligation or commitment of any kind. No offer of securities will be made without a registration statement.
This post was written by SeedInvest on September 6, 2016