August 21, 2014
5 minute read
William Santana Li, CEO of Knightscope, discusses Knightscope's initial fundraise and lessons learned raising capital online.
---
"Knightscope started and was founded on the premise to try to figure out how to improve our society's really bad crime levels. Crime has a trillion dollar negative impact on the economy and we have a set of profound technologies to cut that by 50% in a condensed area. What unfortunately motivated us was the unfortunate shootings at Sandy Hook. There are 138,000 schools in this country and 19,000 law enforcement agencies and no matter what kind of budget you have, you aren't going to have a law enforcer in each school.
I really don't think the founders of our country expected that one would be fearful to go to his or her job, go to work, go to the movies, go to school and then fear being shot at. That's just not ok and it's time that we have a revolution in the security space."
Why did you fundraise with SeedInvest?
"SeedInvest helps the entrepreneur get time back. It's more valuable for our investors and for our customers if our management team is really focused on the business, not spending all the time trying to herd cats, running around trying to raise capital.
Having SeedInvest and the entire team, who has been very professional, providing that investment banking expertise has been incredibly beneficial. A young startup or an early stage company doesn't have that type of investment banking relationship."
What advice do you have for entrepreneurs who want to work with SeedInvest?
"Be well prepared. Assume they are the investor, if not more overarching in terms of their questions. Be prepared on the legal front, making sure you have all the confidentiality agreements in place, the legal structure, the standard diligence items. SeedInvest is going to ask you for that information plus some. Numerous phone calls, lots of email traffic…but it's very good for adding discipline for the entrepreneur who may not have been through the process before and it gives the investors some confidence that more than a few people have been taking a look at your business."
What feature on SeedInvest's platform did you most find helpful?
"Streaming the process online is very helpful when you can actually have some analytics on who looked at what document. Who looked at what document when? Where are you in the process? Who has actually closed? Having that level of analytics easily available to you 24/7 wherever you want is tremendously beneficial for an entrepreneur."
How have you grown since your initial raise?
"We have created 10 new jobs and have a great management team in place and a lot of really bright engineers working on technology to predict and prevent crime. Those 10 jobs will turn into 20 will turn into 30. We are out raising our next round. We were oversubscribed for our seed round and it looks like it's going to happen all over again with the Series A, we are going to end up oversubscribed once more."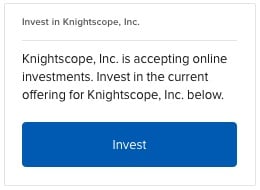 What's next for Knightscope?
"At Knightscope, we are in the process of developing the technology – it's a combination of autonomous robots, predictive analytics and social engagement. We are preparing the set of technologies – both hardware and software – to be able to be deployed in physical environments outside. We will start deploying in beta format later this year. We've got a few hundred million dollars worth of customer interest to start deploying in larger scales next year."
Learn more about Knightscope below:
---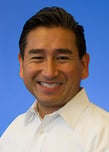 William Santana Li / CEO, Knightscope
Bill is an American entrepreneur with over 23 years of experience and has a broad and deep range of expertise gained from several global assignments in the automotive sector and a number of startups. During his career at Ford Motor Company, Bill held over 12 business and technical positions, focused on 4 continents, cutting across each functional area.

These positions ranged from component, systems, and vehicle engineering with Visteon, Mazda, and Lincoln; to business & product strategy on the US youth market, India, and the emerging markets in Asia-Pacific and South America; as well as the financial turnaround of Ford of Europe. In addition, he was on the AMAZON team, which established an all-new modular plant in Brazil. Subsequently, he served as Director of Mergers & Acquisitions.

After internally securing $250 million, Bill founded and served COO of GreenLeaf LLC, a Ford subsidiary that became the world's 2nd largest automotive recycler. Under his leadership, GreenLeaf grew to a 600-employee operation with 20 locations worldwide and $150 million in sales. At the age of 28, Bill was the youngest senior executive at Ford worldwide.

After successfully establishing GreenLeaf, Bill was recruited by SOFTBANK Venture Capital to establish Model E Corporation as its President and CEO, a new car company where the "Subscribe and Drive" philosophy was first pioneered in California. He subsequently co-founded Build-To-Order Inc. (BTO) as its President and CEO, a new car company based on the direct distribution of build-to-order products. Bill also founded Carbon Motors, and as its Chairman and CEO, focused it on developing the world's first purpose-built law enforcement patrol vehicle. He also built a world- class advisory board comprised of senior officials that had worked directly for 3 different U.S. Presidents.

Bill earned a BSEE from Carnegie Mellon University and an MBA from the University of Detroit Mercy. He is fluent in Spanish and conversant in Portuguese.
This post was written by Alexandra Tynion on August 21, 2014