Plum (formerly Ube) makes lighting and appliance control easy and affordable. Our Wi-Fi enabled lightpad is the first product of its kind. Competitively priced, easy to install, and provides the incredible convenience of controlling your lights from your smart phone from anywhere in the world.
The Plum Lightpad
Plum has completely reimagined the light dimmer. We've created a connected device that not only dims lights, but creates a completly new user experience.
The Plum LightPad connects directly to your home WiFi network without the need for additional bridges, dongles or gateways. The initial setup of the dimmer is as easy as sending or receiving a text message.
The Plum LightPad features an intuitive, multi-touch, touch pad interface. Simply tap or on off. Use one finger to swipe up or down to change the intensity of the light.
Or, when you go to bed at night or are leaving the house, just use the pinch gesture on any Plum LightPad to turn off all the lights in the house.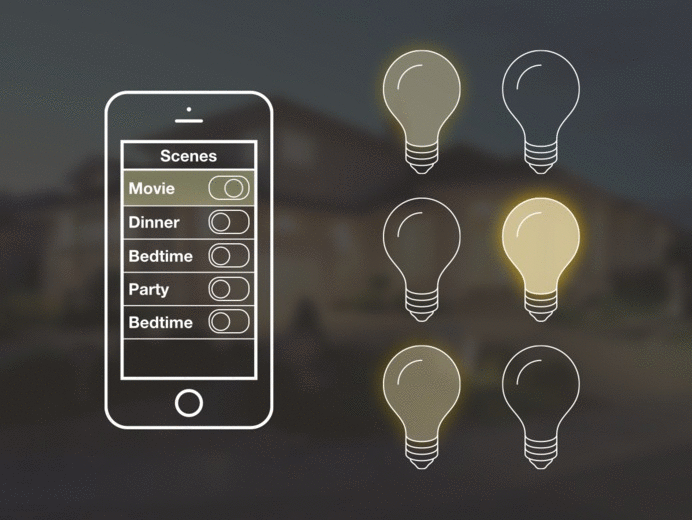 With the Plum app, you can quickly program scenes that control multiple dimmers throughout your house.

The Plum dimmer has an illuminated ring around the touchpad. When you approach the dimmer, it detects your presence and glows in your choice of colors.
The Plum Lightpad has built-in sub-metering in each dimmer. This allows you to know how much you're spending for your lighting or that your kitchen lights cost you 10% more this month.
Plum's CEO is the former CEO of CEDIA - the global organization which represents the connected home industry. For the past decade, Utz Baldwin has been the face and the voice of the connected home.
The executive team is seasoned and experienced in the consumer electronics field. All execs are former executives at both startups and large corporations. Three of the five have served on the e-staff of another successful startup.
Notable Advisors & Investors
Frequently Asked Questions
Making an Investment in Plum
How does investing work?
When you complete your investment on SeedInvest, your money will be transferred to an escrow account where an independent escrow agent will watch over your investment until it is accepted by Plum. Once Plum accepts your investment, and certain regulatory procedures are completed, your money will be transferred from the escrow account to Plum in exchange for your shares. At that point, you will be a proud owner in Plum.
What is the difference between preferred equity and a convertible note?
Preferred equity is usually issued to outside investors and carries rights and conditions that are different from that of common stock. For example, preferred equity may include rights that prevent or minimize the effects of dilution or grants special privileges in situations when the company is sold.
A convertible note is a unique form of debt that converts into equity, usually in conjunction with a future financing round. The investor effectively loans money to a startup with the expectation that they will receive equity in the company in the future at a discounted price per share when the company raises its next round of financing.
To learn more about startup investment types check out "How to Choose a Startup Investment" in our academy.
What will I need to complete my investment?
To make an investment, you will need the following information readily available:
Personal information such as your current address and phone number
Employment and employer information
Net worth and income information
Social Security Number or government-issued identification
ABA bank routing number and checking account number (typically found on a personal check or bank statement)
Because Plum is offering its securities under Rule 506(c) of Regulation D, your status as an Accredited Investor will also need to be verified and you will be asked to provide documentation supporting your income, net worth, revenue, or net assets or a letter from a qualified advisor such as a Registered Investment Advisor, Registered Broker Dealer, Lawyer, or CPA.
What if I change my mind about investing?
Until a closing occurs, you may cancel your investment at any time, for any reason. You will receive an email when the closing occurs and your shares have been issued. If you have already funded your investment and your funds are in escrow, your funds will be promptly refunded to you upon cancellation. To cancel your investment, please go to your portfolio page.
How can I sell my shares in the future?
Currently there is no market or liquidity for these shares. Right now Plum does not plan to list these shares on a national exchange or another secondary market. At some point Plum may choose to do so, but until then you should plan to hold your investment for a significant period of time before a "liquidation event" occurs. A "liquidation event" is when Plum either lists their shares on an exchange, is acquired, or goes bankrupt.
How do I keep track of this investment?
You can return to SeedInvest at any time to view your portfolio of investments and obtain a summary statement.
What is this page about?
This is Plum's fundraising profile page, where you can find information that may be helpful for you to make an investment decision in their company. The information on this page includes the company overview, team bios, and the risks and disclosures related to this investment opportunity.
What are the risks of this investment?
This investment is highly speculative and should not be made by anyone who cannot afford to risk the entire investment amount. In addition to these risks, you should carefully consider the specific information and risks disclosed in Plum's profile.